YOUR GOING TO PISS YOUR PANTS LIKE A BUM WHO FOUND A NEW BOX!!!
PINK A PAD'S ON CRUX RECORDS!
"PINK IS BACK"

(preview player & soundcloud code below)
RMXS BY: YOUNG NUTZ, SHAX, GTRONIC & MORE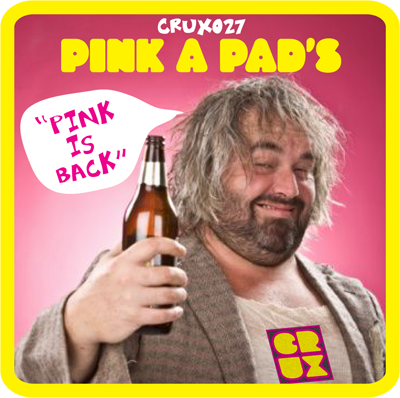 AVAILABLE EXCLUSIVELY AT BEATPORT
CRUX027 - Pink a Pad's "Pink is Back" by cruxrecords
++++++++

A BRAND NEW MIX TAPE BY ONE OF THE REMIXERS, DOC TRASHZ, FOR YOUR HEARING PLEASURE
HERES THE 411 ON THE TRACK:
"Pink is back" even if it never left.... And no, it's not the trashy wanna be pop star! Let's get this party started right with Pink a Pad's 2010 debut that we call Synthy Minestrone. It's cut carrots, beef bassline, onion, salty rave stabs, zucchini and a distorted secret ingredient! Cook at 120 DB for 5 minutes then mix in some sweet & sour remixes by SHAX, Young Nutz, GTRONIC, Underhall, & Russ Heffner!!.......After party sponsored by Maalox!

Radio Play support on BBC Radio 1, GrooveRadio, PowerTools, and XM, Massive DJ support from Stereoheroes, Designer Drugs, Nervous Nick, Swedish Egil (Groove Radio), Donald Glaude, Blatta & Inesha, Don Rimini, Richard Vission, Larry Tee, The Bulgarian, and more!!!!
Pink a Pad's is a bad ass duo made up of Milan natives Seife and Seth. Breakbeat & Drum n Bass gave birth to their careers in '08 before it quickly took a turn to adulthood in Hip house, Fidget and Electro. Filling in their resume of nastiness includes "dirty drop", "VM" and "Ground Level". Fast forward to their current job we arrive at an Italian fire storm next to only their Italian forefathers in Electro. They have created a chain of madness turning people crazy. The piece de resistance being out on CRUX " Pink Is Back" as a homage to the mighty Bloody Beetroots. Naturally, the next page of the PP history is written with an album that is yet to come!