Rip Ryan Dunn

Hirsute Jackass regular and some time actor, Ryan Dunn, has sadly died from injuries sustained in a car crash at the age of 34.
This morning the following statement was posted on the website of Jackass production company Dickhouse Entertainment:
"I don't really know what to say right now everybody, because the sadness is overwhelming, but today we lost one of our own. Our brother Ryan Dunn has passed. He died in a car wreck in West Goshen, Pennsylvania this morning at 3 a.m. Goddamn, that's tough to write."
"Our hearts go out to his family and his beloved Angie. Ryan will be missed and remembered by us all. Thanks for the kind words of support everybody."
Dunn and his unnamed male passenger were both killed in the accident after Ryan's Porsche reportedly went over a guardrail on Pennsylvania's Route 322 at around 3am, hitting a tree and bursting into flames.
Dunn was often thought of as "the most normal one" out of the Jackass crew despite his willingness to do anything on camera whether that be his infamous 'Poo Dive' or inserting a toy car up his ass for the Jackass movie.
Dunn's friends and fans have led an outpouring of tributes, including one from cast mate Johnny Knoxville who tweeted: "Today I lost my brother Ryan Dunn. My heart goes out to his family and his beloved Angie. RIP Ryan , I love you buddy."
The Presets album update

Super quick update for fans of Sydney's electro giants The Presets. Apparently the release date for the follow-up to the band's massive sophomore record Apocalypso may be further away than expected. Although band members, Julian Hamilton and Kim Moyes, have previously suggested their third album would come out toward the end of 2011, Kim told Triple J that may not be the case. He told them, "Look, hopefully (we have it out this year) but probably not. It's going to be good. It's been a long hard slog but I think it's going to be better than the last record. But I really liked Apocalypso so I don't know."
Death from Above 1979 tops Parklife´s line up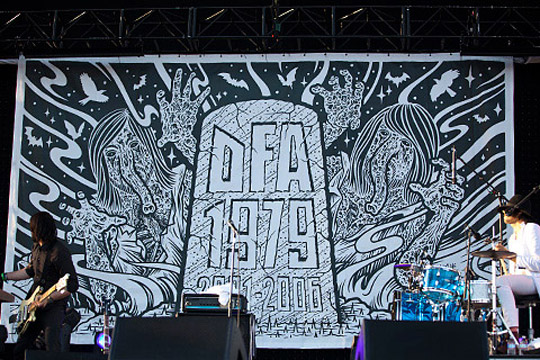 Let's cut to the chase: Death From Above 1979 will be playing their first ever shows in Australia as part of the 2011 Parklife festival tour so there's that. The rest of the lineup looks really good too, with Santigold, Duck Sauce, Lykke Li, Diplo and Sebastien Tellier among the headliners.
Here is the full line up:
Gossip
Lykke Li
Santigold
Death From Above 1979
Duck Sauce
Katy B
The Naked & Famous
Crystal Fighters
Example
Digitalism
Adrian Lux
The Streets
Simian Mobile Disco
Magnetic Man
Nero
SebastiAn
Diplo
Mstrkrft
Sebastien Tellier
Little Dragon
Gold Fields
Mylo
Wolfgang Gartner
Joker & MC Nomad
Feed Me
Tensnake
Kimbra
The Aston Shuffle
Flux Pavilion
Yacht Club DJs
Harvard Bass
And this is where they'll all be heading:
Sat 24 Sep | Sidney Myer Music Bowl and Kings Domain, Melbourne, VIC
Sun 25 Sep | Wellington Square, East Perth, WA
Sat 1 Oct | Riverstage and City Botanic Gardens, Brisbane, QLD
Sun 2 Oct | Kippax Lake, Moore Park, Sydney, NSW
Mon 3 Oct | Botanic Park, Adelaide, SA
Tickets on sale Midday Thursday June 30.